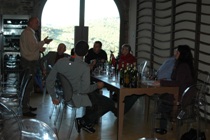 WINE PAIRING
How about pairing your Tuscan Table dinner with a great Tuscan wine? I've always been passionate about wine and have enjoyed visiting many of the local wineries. I would be delighted to share my passion and knowledge with you by recommending wines to enjoy with the meal I cook for you. Either pick some up whilst touring around or I am happy to bring some along.
The most important wines produced in the region of Tuscany are......
Chianti Classico
Brunello di Montalcino
Vino Nobile di Montepulciano
SuperTuscan
Vernaccia di San Gimignano
Tuscany also produces great wines from the Maremma coast which are less known and tend to more less dry and more fruity (e.g Morellino di Scansano). Due to the strict rules on appellations there are many great IGT wines which shouldn't be ignored due to their lack of 'status'. In recent years, excitingly, Tuscany has been introducing and planting new grape varieties such as Chardonnay and Pinot noir which, blended with the local varieties, result in some very fine wines! It has also led to a much wider and better choice of white wines (in a predominantly red wine producing region)!!
PRICES
Chianti Classico from €25 per bottle
Brunello di Montalcino from €60 per bottle
Vino Nobile di Montepulciano from €35 per bottle
SuperTuscan from €45 per bottle
Vernaccia di San Gimignano and other whites from €20 per bottle
BUBBLES
If you enjoy bubbles before dinner or with your starter, Italy's sparkling star is Franciacorta (a small wine producing area in Lombardy). Alternatively a slightly less dry sparkling wine is the well known Prosecco (from the Veneto area). Outside of these regions a sparkling wine will simply be called Vino Spumante.
Prosecco from €20 per bottle
Franciacorta from €35 per bottle